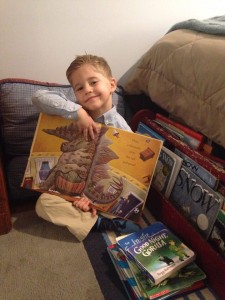 Would you like to help other boys find great books to read? Then we need you to submit your son's Fave Five or his Book Review.
Here is how. First this must be submitted by a parent or someone over 18. With your child, fill in the form and submit a picture of you reading or with books.
Directions for filling in the form.
You may submit your Fav Five every 6 months. You may submit a Book Review for each book you read.
In "Name and Email" please post parent name and email to contact if there are any questions.
In "Post Title" please type in the boy's first name (or nickname if you would like to protect his real name) and two digit state code – example "Sam from CT"
Answer the anti spam question so we know you are a person.
Select the correct category according to your child's age.
In "Post Content" do one of the following:

Fave Five: List your favorite 5 books. For each book list the title, author and 10 digit ISBN if you know it.
Book Review: List your book title, author and 10 digit ISBN if you know it. Then tell us the following (can be dictated to a parent!):

What did your son like about the book?
Tell us why your son would or would not recommend the book to someone else.
Tell us if you think the book was "not good" or "OK" or "good" or "very good" or "excellent."

Finally, select a photo of your son reading to upload. If you want you may upload a second picture but it is not required.
Press "Submit" and you are done.
by pressing submit you give Boys Reading Club permission to post your child's favorite books and picture. You also understand that some social media sites will "grab" the picture when someone shares this post.
Thank You!