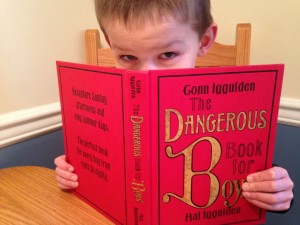 Reading out loud to our sons is great for bonding and enjoying common experiences. We know it develops vocabulary, increases listening skills, facilitates bonding and so much more.
But did you know you can supercharge his "mind expansion" by asking the right questions? Here are 10 questions to ask your child during or after reading a book which will help develop and grow not only his vocabulary and listening skills, but also help expand his mind.
Using the cover art, the teaser text, the inside flap and introduction, what do you think this book will be about? What led you to that conclusion?
How is the author telling us this story, from what or whose point of view?
What do we know about the main character and why do we know this about him/her?
Is the author setting us up to think something might happen, and if so, what in his writing leads you to believe that?
What mistakes and what wise choices has the main character made and are they deserving of criticism or respect?
What does the author mean when he/she uses a certain word/phrase/sentence? Why do you think the author use this word/phrase/sentence instead of some other description, explanation, etc.?
How is the world the book characters lives in different from my world?
How would you solve the problem the characters find themselves in?
What was the plot of this book and how is this book different from other books we have read in this genre?
Why do you think the author chose to tell this story, does the author have a bias or strong opinion that is coming through in the book?
Keep these questions handy and use them. But beware, your child might start thinking more independently and much deeper than his peers. This may cause problems with his teacher who may try keeping him quiet during book discussion time!