Susan K. Marlow is a Christian and author of the Goldtown Adventure Series




Interest level: Primarily ages 8-12 (middle grade)
Reading level: 4th grade
The series is comprised of 4 books, all available in softcover. The last two are also available on kindle, nook and google play.
Juvenile Fiction, Historical Fiction
Susan K. Marlow once went after a coyote who carried off one or her chickens. She started with a broom and when that didn't work, she took out after him with a .22 pistol. The coyote stopped and watched her shoot at him 4 times from about 15 feet away. She missed every time. You can read the full, humiliating tale here.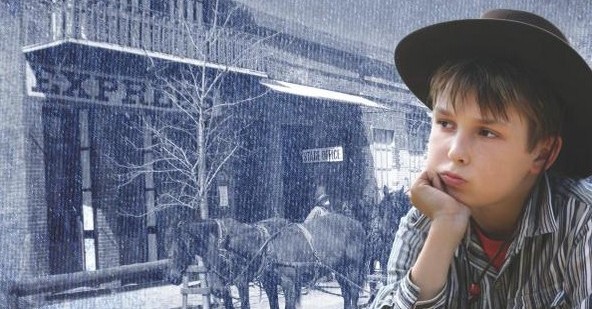 What is the Goldtown Adventures series about?
It's 1864. The California Gold Rush is about over, but twelve-year-old Jem Coulter and his sister, Ellie, are sure they can pan more gold from Cripple Creek. With Pa's new job as sheriff of lawless Goldtown, and a cousin and aunt from back East moving in, there's plenty of adventure for everyone! Whether figuring out why Cripple Creek has mysteriously dried up or getting caught in the belly of an old mine, Jem's life in a gold-mining camp is always exciting—with plenty of opportunities to learn to trust God. Wholesome adventure from a biblical worldview.
Badge of Honor – Twelve-year-old Jem Coulter and his sister Ellie's lives are turned upside down when their father takes the job of sheriff of lawless Goldtown.
Tunnel of Gold – When the Midas mine begins to run out of gold, Goldtown may soon become a ghost town. Jem will do anything to find a way to help save the mine. But is his friend Will's plan too risky?
Canyon of Danger – As "man of the family" for the week, Jem must figure out what happened to their family's stolen horse and rifle before his father returns home to Goldtown. A former pony express rider may hold the answer, but can Jem trust him?
River of Peril – A trip to Sacramento turns dangerous when Jem tries to help his father keep gold bound for the Union from falling into the hands of Confederate sympathizers. Then Ellie disappears and Jem finds himself trapped on a paddlewheel steamboat bound for San Francisco.
 In the Goldtown Adventures series who will boys relate to?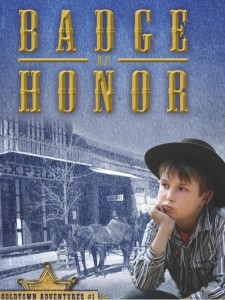 Boys will relate to twelve-year-old Jem by following him along on his adventures in a gold town. He has chores, he must learn to accept people different from himself, he protects his younger sister, and he worries about his sheriff father (who wears his badge like a bulls-eye for outlaws). Just like real boys everywhere, Jem stumbles and fails, but he knows God is there to pick him up, whatever the trouble may be.
Why will boys enjoy your books?
What boy wouldn't want to trade places with twelve-year-old Jeremiah (Jem) Coulter? By following Jem's adventures, boys can pan for gold, flee claim jumpers, explore old mines (and get trapped), meet a pony express rider, solve mysteries, and enjoy the freedom and high adventure of life in an 1864 gold town and the surrounding countryside.
What would you like boys and their parents to know about your books?
The Goldtown Adventures brings the Gold Rush days of California to life through the eyes of a young boy coming to age in 1864. Jem has a good heart but gets into his share of trouble and danger. He's a good friend to an old prospector, and although his little sister annoys him, he is protective with a strong sense of family. He knows right from wrong and always wins the yearly Sunday school Bible verse memorization contest. Having scripture come to mind during times of fear and danger gives Jem opportunities to comfort those around him.
The series can be enriched by downloading the FREE study/enrichment guides that accompany each book. In the guides you will find a variety of boy-friendly activities that include gold panning, the Pony Express, animal tracking, paddle-wheel steamboats, a hard-rock miner's life (you can build a real miner's stove!) and much more. Numerous links help paint pictures of what it was really like back then. Works great as a homeschool literature unit study. To sample the Goldtown Adventures, you can download the first two chapters of each book.
——-
Susan K. Marlow has a BA in elementary education and is a 20-year homeschooling veteran. She believes the best part about writing historical fiction is tramping around the actual sites. Although Susan owns a real gold pan, it hasn't seen much action. Panning for gold is a lot of hard work. She prefers to combine her love of teaching and her passion for writing by leading writing workshops, speaking at young author events, and connecting with readers at homeschool conventions.
You can find Susan K Marlow's books at: www.GoldtownAdventures.com