Wayne Roe is the author of: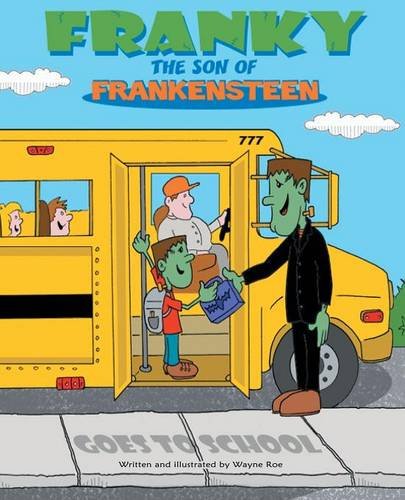 Interest Level: 5-10
Reading Level: 7-10
Soft cover book is available from Amazon, Barns and Noble and Blackrosewriting.com.
Genre: Children's book
Wayne Roe loves drawing cartoons, photography, golf, basketball and traveling.
What is Franky the Son of Frankensteen Goes to School about?
A boy named Franky and his dad move from Transylvania to the USA. Their appearance is quite different from most fathers and sons, green skin, metal bolts in their necks, and flat level heads. Franky finds out the hard way at his school that being new and different can be scary. Find out how Franky finds a way to "fit in" with his new classmates! This book is about acceptance.
In Franky the Son of Frankensteen Goes to School, how will boys relate to Franky?
We all have to go through new beginnings in life. Examples would be moving, going to a new school, joining boy scouts, joining the track team, etc.
Why will boys enjoy your book?
Franky is different looking but is easy to relate to. He also has a pet that is hard not to like. One of the hardest things about childhood is not being accepted by others. Most of us have gone through this or might be going through this right now. I feel boys will be able to relate to this struggle and realize they are not alone.
What would you like boys to know about your book?
I wrote the book to show the bond between a father and his son and also if read by an adult it is an excellent conversation starter.
Some concepts boys and their parents can think about:
In the book because the principal is not able to start her car Franky's dad is presented with an opportunity to help her with her car problem. What does he do?
A sign on the wall in the lunch room says "welcome your new classmate Franky". How many students are sitting with Franky that first lunch period? Why do you think that is so?
When he brings his pet to school what are the reaction of the other students and what happens then?
Franky's slogan is "Be awesome, read a book." Do you think Franky's teacher and friends like his slogan? Why or why not?
Note from Boys Reading Club:
If your child is the new student or is struggling with being "different" this book can be very valuable to help you with talking to your son (or daughter) in helping them realize that others have faced the same issue and that it is possible to be friends with others who are different.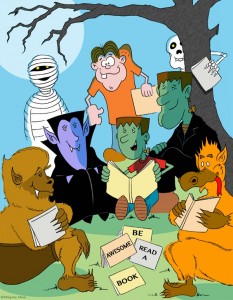 Find out more about Wayne Roe's book, Franky, the Son of Frankensteen Goes To School at the book's website: http://www.frankybook.com/
Authors Bio: As long as I can remember I have been drawing cartoons. My step brother taught me how to draw Fred Flintstone when I was in the 5th grade. I have been hooked on drawing cartoons and Illustrations with a passion ever since. I have tried my hand at oil painting, Web design and computer graphics. I realized for me there is nothing that I love more than drawing. This is my first children's book to be published, but certainly not my last. There's an awesome quote by C.S. Lewis that reads: "You are never too old to set another goal or dream a new dream." God Bless!
Books are available at Amazon and:
Barns and Noble