Faye (Daffney) Whitefield Carlton is author of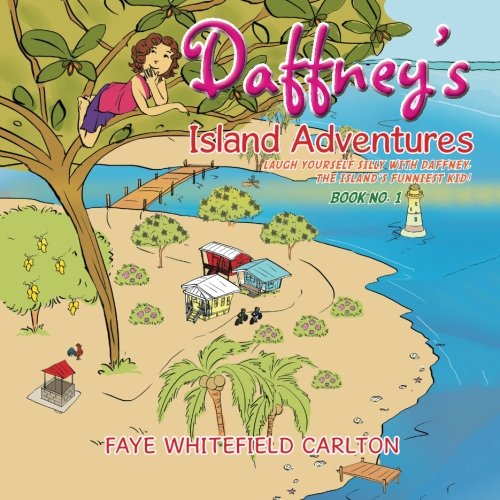 Interest level: 2 yrs old through children of all ages
Reading level: 6 – 12
Soft cover and ebook available to buy through most online bookstores including Xlibris.com,  amaozn.com. and barnesandnoble.com.
Juvenile Fiction, Elementary Reader Level
Faye (Daffney) Whitefield Carlton was born on a small remote island of the 'Bay Islands Of Honduras' In the western Caribbean. She grew up as a child living the life of adventure and exploration in her simple and humble surroundings of island life while at the same time possessing a strong will and a mind of her own. Daffney has made many friends and achievements in life and was always known by everyone who knew her to be friendly funny and outgoing. She moved to the United States in her late teens where she married a minister and became the proud mother of three beautiful and wonderful children who have made her the proud grandmother of six. She resides in Florida with her husband surrounded by her children and grandchildren. Daffney frequently visits her island and enjoys reminiscing about her childhood life that was fun and full of adventure. Her stories are born from her real life experiences and her desire is to share them with children all around the world. Her stories are educational within themselves while at the same time offering children the opportunity to take a look into another culture in which they can open up their minds to a whole new world of imagination. Join her on this journey through time where you are sure to be excited and amused to find out what Daffney will come up with next!
What is Daffney's Island Adventures about?
The book title is 'Daffney's Island Adventures is about a little girl living on a tiny island in the Caribbean. She loves to climb trees and use tricks to get out of doing stupid chores! And she's always on the lookout for Pirates! Just in case they sneak unto her island to steal her or something! This book is packed full of adventure! And guess what? Book No.2 will be coming in time for Christmas of this year 2015.
In Daffney's Island Adventures  who will boys relate to?
All the boys will love Daffney because she's just like one of them! She loves to go fishing in her canoe and can even dive for lobsters. She hates chores and loves to run all over her island beach climbing coconut trees! Daffney can do anything that a boy can, and she thinks – even better! Except her mouth gets her in trouble all the time.
Why will boys enjoy your book?
Boys will relate to Daffney's adventures. She loves to explore. She teases crazy chickens and Iguanas which try to catch her. Boys will love joining her as she has to run for her life from all sorts of crazy things!
What do you want boys to know about your book
First of all, all my stories are funny and hilarious. I want boys and their parents to know that my stories are based on my very own experiences as I lived them and that by reading my book you will see how important it is to take the time to think before make decisions.
One really fun fact about reading Daffney's Island Adventures: 'with the help of Daffney' you will learn step by step how to make a kite, and more.
Every child who reads Daffney's Island Adventures will experience fun and adventure while learning about important everyday lessons. From thinking before you speak, to dealing with the realities of limited resources and taking initiative to earn your own money, this fun, sometimes outright silly book will delight boys and parents alike.
Join Daffney's fun and adventure!